New Year Gloom
This Week, I will be very busy preparing for Chinese New Year celebration. And next week, will not be in SG for one week. First of all, I will go back to Indonesia. My mom has already booked for our reunion dinner at high class restaurant. I bought so many things for my family. Usually during Chinese New Year, I will be much anticipated. However, this time is very different.
Heard from news announced that Jakarta is flooded again. The Jakarta's airport, Sukarno Hatta was closed on Friday, delaying more than 40 flights due to low visibility following torrential rains. Several cars were stranded and people waded through nearly knee high water as flood waters swamped roads and strong winds battered the city of 14 million, which is hit by the massive floods at this time almost year.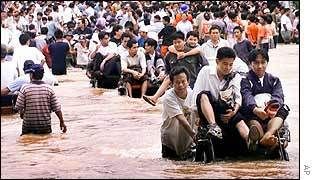 Power has been cut to some areas to prevent electrocutions
People have been using makeshifts rafts to escape
I hope my journey is smooth sailing. There will be no obstruction on my way to go home. Anyway, I have just uploaded my new piano song, Proud of You by Fiona.
This is my second song that I've uploaded. Hope that everyone can enjoy it.
Pictures Credit to: BBC News